Typing and Data Entry Services
At Professional Pen we can take your typing, transcription, or data entry project, no matter the source or size, and output it in the format that you need. We can accept your documents through the mail, e-mail, on CD, via FTP or uploaded to a private folder on our online storage site.
Professional Pen will type your document, including your corrections if necessary, and produce it as an editable Word file, text file or other word processing format. We can produce a PDF of your document ready for online publication.
At Professional Pen we take extra care with your project to get it right. We guarantee our work to be accurate and timely.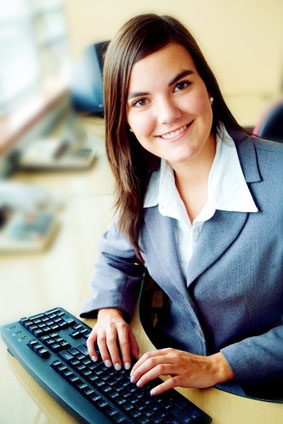 Examples of the work we do include:
Family history, preserving letters, diaries or journals. By putting these documents in electronic format they can be saved from loss. They can also be distributed to your family as a printed book, documents on CD-ROM, or online.
Memoirs. We can type up your life story or thoughts, perhaps also published in a bound book. This is a great way to pass on your stories and pictures to your family and friends. Talk to us about publishing options if you're interested.
Type your novel or manuscript. Whether you're sending your work out for publication or simply want to share it yourself, we can do your typing and leave you more time for writing.
Retype PDFs, books or other printed documents. Many clients come to us with a document in PDF format that they need to make some changes to, whether it's bylaws that need to be updated, a lease, or a previously published book. Professional Pen can retype your PDF, printed book, or pages and save you the time. We can make any necessary changes and republish it in PDF or Word format for you.
Type your list of recipes, addresses or contacts. We can produce a cookbook, a sortable address list, or a mailing list for you. Let us set up the spreadsheet or database so that you can easily manage and add to your information in the future. In a spreadsheet your data can be easily sorted or recalculated.
Book Reports: The requirements, complexity, and completion of your book report may vary in time and degree depending on your teacher's expectations. Professional Pen Writers is ready to assist you in making your book report a success story for both you and your professor.
Business Letters: Communicating in a business letter, memo, email, or fax to an organization, client, or other external parties, is an essential part of building business relationships and achieving future business goals. Professional Pen recognizes the importance of accuracy, precision and quick turnaround times to meet your deadlines.
College Papers: The requirements and demands for term papers, presentations, and reports, stretch the college student's time and energy to the max. Let Professional Pen take some of the load off your shoulders, by offering you a quick and easy way to eliminate some of your workload.
Conferences: Let Professional Pen help you with your typing and data entry needs for all of your Meetings, Business Conferences, Conference Calls, Conference Room, News Conference, etc.
Contracts: Presenting legal forms and agreements to identify the fundamental elements of a proposed agreement is necessary between contracting parties. When detail is critical let Professional Pen make your bargaining tool clear, concise and return it to you in record time.
Dissertations: Your presentation needs to be through, formal and a lengthy exposition of your point of view as a requirement for an academic degree or the result of your research findings. Professional Pen is ready to complement your work by giving you A+ satisfaction and quick turnaround time.
General Correspondence: Communicating with others and receiving information from others keeps relationships open and successful. Professional Pen would like to offer our transcription services to make your correspondence an easy and smooth transaction.
Homework Assignments: Teachers and professors give you homework in order help you achieve the requirements necessary to either pass or graduate. Professional Pen can take some of the stress off you by typing your assignment to make it flow and flawless.
Marketing and Instructional Materials: Making material ready for the public to follow and implement is a time consuming but rewarding job. Let Professional Pen transcribe your instructional material to your guaranteed satisfaction.
Interviews: Conducting an interview and gathering objective and accurate data requires a structured process to reach your organization's goals with great success. Professional Pen can transcribe your data in a professional and accurate manner as well as guarantee prompt service.
Our usual rate for typing is $32 per hour. The cost will vary based on the word count and formatting of your document, but this works out to between $2.30 and $3.50 for a standard double-spaced page. Please send us a copy or a sample of your document so that we can produce an estimate for your particular job. We would be happy to do a small portion of the job as a sample of our work. Ask about our Monthly Retainer Plans, which gives clients a way to substantially save when they have many projects or wish to work with us on a continued basis. Once you have established yourself as a client with us, you may choose to be put on our monthly billing plan.
Call Us For:
Custom Quotes

Student Rates

Military Rates

Senior Rates

Police/Firefighter/EMT Rates

Veteran Rates